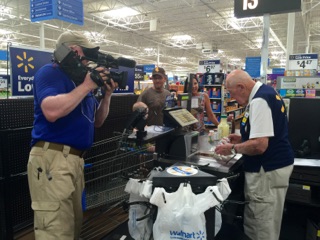 At 103 years young Saturday, Loren Wade has been dubbed "America's Oldest Worker." He's worked in various capacities at the Walmart in Winfield Kansas since 1983, currently in the garden section.
After serving in the Air Force in WWII, he had 20 some odd years at the post office when he" retired" and then decided sitting in a rocking chair wasn't for him.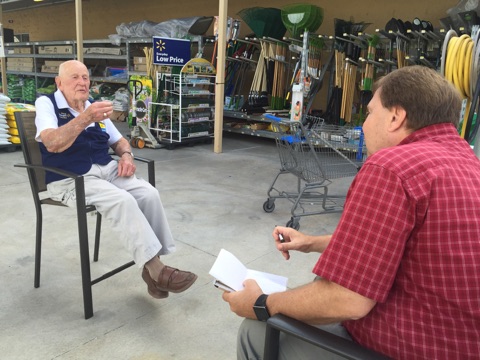 To celebrate the town is throwing a birthday party this afternoon and his story was aired on the Today Show Sunday, July 26th.
Wade received a call from another famous senior: former Senator Bob Dole, 11 years Wade's junior.
Oh yea…Loren still drives to work five days a week.
Walmart did Wade and the rest of the "Greatest Generation" a solid as well; donating 125k to the National World War II Memorial Campaign.
It was a pleasure and an education interviewing Loren Wade.
(footnote: Wade passed away at age 104 in late November, 2016).